Tulsa Air and Space Museum and Planetarium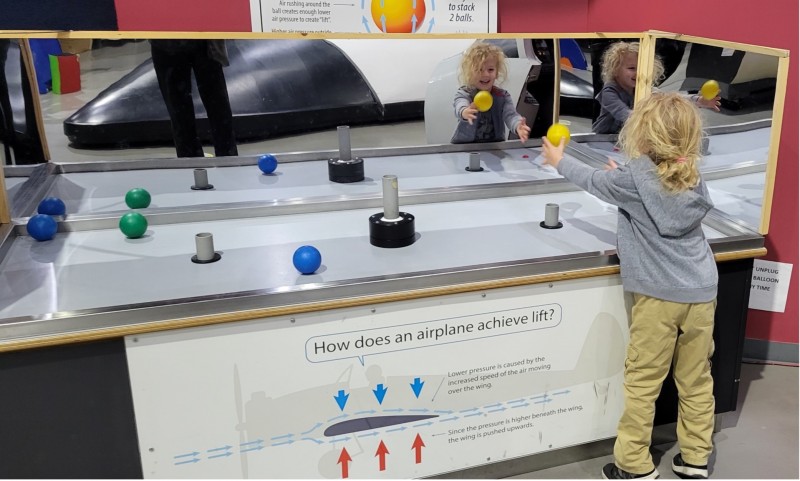 Mhis four-year-old grandson is fascinated by planets, solar systems and galaxies. Because of his love for all things space, we decided to take him on a field trip to the Tulsa Air and Space Museum and Planetarium. My husband and Callister share this love of space, and I just watched the field trip. It was a wonderful learning experience for me and a fun and interesting excursion for all of us.
The Air and Space Museum and the Planetarium are located in neighboring buildings. I bought my tickets online, but there was no queue to buy tickets both times we went. There is the possibility to buy tickets for each place separately. We bought tickets for the museum and the planetarium, and we were glad we did.
The Air and Space Museum
The Air and Space Museum has lots of interesting things to look at, from airplanes and parachutes to the history of airplanes and Tulsa airports. We were also able to visit an American Airlines MD-80 plane and a helicopter shot down during the Vietnam War. We also looked inside a WWII-era aircraft. Callister tried a flight simulator and a hot air balloon simulator.
There were several hands-on experiments that my grandson loved, such as experimenting with balloons and air pressure to explain how lift works in an airplane. His favorite was computerized aircraft design where he had the ability to decide the fuselage, engine power, and wing and tail design. The designed aircraft flew if successful and crashed if the design was wrong.
The Planetarium
Then came the time for the planetarium. The planetarium offers four different shows each day, so be sure to check the schedule to be there for the show that interests you. (Please note that the planetarium requires all guests to wear a mask.) If your child is afraid of the dark or gets motion sickness easily, this may not be the experience for you.
We have now seen two shows and the one entitled "Earth, Moon and Sun" is probably the most interesting for the youngest. It has an animated character of a wolf as the narrator and a bit of humor injected throughout. However, today we saw "Black Holes", narrated by Liam Neeson, and my grandson loved it.
The planetarium lobby has some interesting exhibits to keep you occupied while you wait for your show to start. There are pictures of famous astronauts, an astronaut suit, and a telescope exhibit.
Ongoing conversations
Callister was so interested in black holes that we stopped at Schusterman Benson's on the way back so he could check out books on black holes and galaxies. He got to tell his favorite librarian, Miss Joy, how black holes form, so it was obvious he had been paying attention during the planetarium show. I admit I just got a little sleepy when the lights went out, so I needed him to explain it to me too!
Later that evening, I overheard Callister and my husband discussing black holes, novas, and galaxies. I know my husband is thrilled to finally have another member of his family who shares his fascination with space. Judging by their conversation, I think we might consider TASM membership!
White River Fish Market
We love the Tulsa Air and Space Museum and Planetarium, but it's a long way from our home south of Tulsa. However, one of the things that keeps me going on this drive is the opportunity to eat at the White River Fish Market along the way. Callister and I love seafood, and White River Fish Market is the best! Today he tasted lobster for the first time and he loved it! Tuesdays and Wednesdays are lobster days, so plan accordingly! If you're energetic and want to squeeze in a lot of time in a day, the Tulsa Zoo is right across from TASM!
Tulsa Public Schools was out of school this week so it was a perfect opportunity to have a bonus day with my grandson. White River Fish Market, the Tulsa Air and Space Museum and Planetarium, the library, and my favorite four year old. I can't imagine a more perfect day! Well, unless you take me to the beach. Let's be realistic.
Information Tulsa Air and Space Museum and Planetarium
TASM hours: Open Tuesday to Saturday from 10 a.m. to 4 p.m.
Entry fee :
ENTRY TO THE MUSEUM
Only interested in the showroom? This ticket includes access to all exhibits in the WH Helmerich hangar and a tour of the MD-80!
Adult: $8
Senior: $7
Military/Veteran (with ID): $7
Youth/Student: $5
Child (4 years and under): FREE
ENTRANCE TO THE PLANETARIUM
Only interested in the planetarium? This ticket includes a show at our Bertelsmeyer Planetarium, a 50-foot domed theater!
ENTRANCE TO THE MUSEUM AND PLANETARIUM
Discover all that TASM has to offer! This ticket includes access to the WH Helmerich hangar and a planetarium show at the Bertelsmeyer Planetarium.
Adult: $15
Senior: $12
Active member/veteran: $12
Youth/Student: $10
Child (4 years and under): FREE
Planetarium show schedule

TUESDAY THURSDAY

11:00

12:30 p.m.

2:15 p.m.

Black holes: the other side of infinity

3:15 p.m.

Faster Than Light: Dream of Interstellar Flight

FRIDAY SATURDAY

11:00

Destination Mars: The New Frontier with Live Night Sky Tour

12:30 p.m.

Black holes with live night sky tour

2:15 p.m.

Faster than light with How Big is the Universe

3:15 p.m.

Faster Than Light: Dream of Interstellar Flight
---