Star Shows, Laser Concerts and Spanish-Language Programs Planned at RVCC Planetarium in July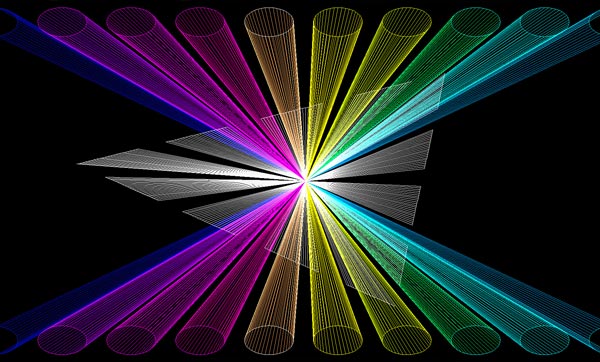 NEW | FEATURES | PREVIEWS | EVENTS
originally published: 06/13/2022
(BRANCHBURG, NJ) — Raritan Valley Community College Planetarium offers a variety of star shows and laser concerts for all ages in July, including special programs in Spanish. The following shows are scheduled at the Branchburg Planetarium.
Accidental Astronauts, Friday July 8 at 7:00 p.m. Robot-kids Cy, Annie, and their dog, Armstrong, get much more than they bargained for from their school trip on an impromptu adventure. Journey exploring the Sun, Earth, and Moon with a witty ship computer as your navigator and guide. Race across the surface of the Moon. Collect an asteroid sample in low gravity. Survive a solar storm. Discover a new appreciation for Earth's unique beauty. Travel with the accidental astronauts in this epic domed theater adventure. (Recommended for ages 4-10)
Astronomy tonight, Friday July 8 at 8:00 p.m. Using the Planetarium's DigitalSky digital theater, experience a guided tour of the night sky. Learn about some of the popular constellations visible from sunset to sunrise, and the stories behind them. Find out how and where in the sky to find the brightest planets. Weather permitting, the 3M Observatory will be open after the show. (Recommended for ages 8-adult)
Laser Queen, Fridays July 8 and 15 at 9:00 p.m. Queen's legendary music transcends time, and this show could shake audiences right from their seat. Did we mention lead guitarist Brian May is an astrophysicist? Come cradle the cosmos in a blaze of light, sound and color. Some of Queen's hit songs on this show include "Crazy Little Thing Called Love", "Another One Bites the Dust", "Under Pressure", and "We Are the Champions".
Earth, Moon, Sun & Coyote, Wednesdays July 13 and 20, Thursdays July 14 and 21 at 2:30 p.m. Coyote thinks he knows everything about the sky, but he's surprised at how many misconceptions he has about eclipses, phases of the moon, and the movement of the day and night sky. (Recommended for ages 6-12)
Advertise with New Jersey Stage for $50-$100 per month, click here for more info
---
Laser Kids laser concert, Wednesdays July 13, 20, 27 at 3:30 p.m.; Saturday July 16 at 3 p.m. Enjoy a new mix of music with a playlist to entertain the kids and kids at heart as the lasers dance above the dome. Songs include Echosmith's "Bright", Village People's "YMCA", Bad Bunny's "Mia" and Shakira's "Waka Waka". (Recommended for ages 6-12)
Mars thousand and one, Thursdays July 14, 21, 28 at 3:30 p.m.; Friday July 15 at 8 p.m.; Saturday July 16 at 4 p.m. One day soon, the first humans will leave for Mars. Like space-age astronauts, they will soar into the unknown. In Mars One Thousand One, space journalist Miles O'Brien guides viewers through the first human mission to Mars: a daring 1001-day mission to fly an international crew to the Red Planet and return the group safely to Earth. . Many challenges will have to be met for the crew to succeed and unlock the secrets of the new world.
Rockin' Rocket Ride, Friday July 15 at 7:00 p.m. Put on your space suit and blast off into space to visit the Moon, Sun and planets. A lively experience for youngsters, the show features a selection of music from Jane Murphy's "Journey Into Space." (Recommended for ages 3-8)
Magic Tree House: Space Mission, Saturday July 16 at 2 p.m. Join Jack and Annie as they uncover the secrets of the Sun, Moon, planets, space travel and more. Who can help them answer the questions that the mysterious "M" leaves them with? This show is based on the bestselling novel series of the same title. (Recommended for ages 5 and up)
The secret of the cardboard rocket/The secret of the cardboard coheteFriday, July 22 at 7:00 p.m. Presented in Spanish, the show features an adventure through the solar system in a cardboard rocket. Travel with two children and their navigator, the talking astronomy book. Visit the Sun, planets, Moon and more. (Recommended for ages 6-12)
Great Astronomy/Astronomia, a great escalationFriday, July 22 at 8:00 p.m. Presented in Spanish, Big Astronomy tells the story of the people and places that make big astronomy and big science a reality. The show takes visitors to extreme sites where astronomy takes place in the most extreme environments and with some of the most interesting people. (Recommended for ages 8-adult)
La Musica laser concert, Friday July 22 at 9 p.m. Enjoy a laser concert with all the songs sung in Spanish. Includes "Latinoamerica" ​​by Calle 13, "Bailando" by Enrique Iglesias, "Livin la vida loca" by Ricky Martin, "Oye como va" by Santana, "La flaca" by Jarabe de Palo, and more. (Recommended for ages 10 and up)
Perfect Little Planet, Wednesday July 27, Thursday July 28 at 2:30 p.m. A family from another star system searches for the perfect vacation spot. Fly over the surface of Pluto, our best-known dwarf planet; navigate through Saturn's rings; feel the storms of Jupiter; and walk on the surface of Mars. Which destination will the family choose? (Recommended for ages 6-12)
The Skies over Hogwarts, Friday July 29 at 7:00 p.m. and 8:00 p.m. Join the Planetarium witches and wizards as they lead visitors through a Harry Potter-thematic tour of the night sky. Find out how JK Rowling used astronomy as inspiration for some of her character names. (Recommended for ages 8 and up)
Laser Hollywood, Friday July 29 at 9 p.m. Themes from some of everyone's favorite movies inspired this new laser concert, including Raiders of the Lost Ark, The Pink Panther, Star Wars, and Beverly Hills Cop. (Recommended for ages 6-adult)
---
Planetarium tickets are $10 for one show, $18 for two consecutive shows on the same day. Reservations are recommended, but all ticket sales are at the door on the day of the show. Late admission to Planetarium shows is not permitted. For reservations and information, call 908-231-8805.
Raritan Valley Community College (RVCC) is located at 118 Lamington Road in Branchburg, New Jersey.
Advertise with New Jersey Stage for $50-$100 per month, click here for more info
---